New 2 You
NEW2U and TIME OUT 4 U
Meets on Monday mornings 10.00am to 1.00pm
during Term Time.
We look forward to seeing you all.
***********************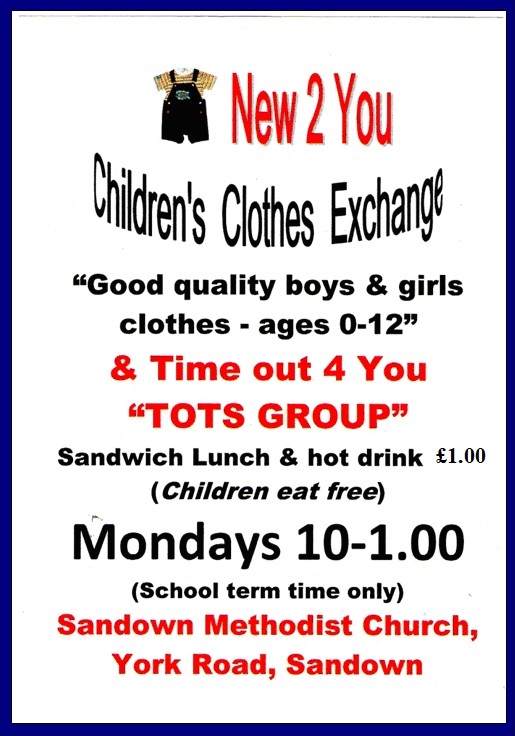 *********************************
************************************
NEW 2 YOU & TIME OUT 4 YOU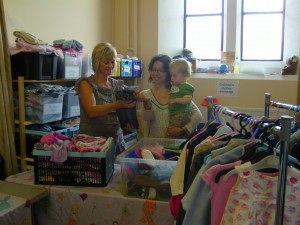 NEW 2 U - CLOTHING EXCHANGE
On Monday during term time from 10.00am - 1.00pm NEW 2 YOU childrens clothes exchange runs. Everyone is welcome and you can donate or exchange clothes for children aged 0-11 years. This enables parents/carers to recycle their children's outgrown clothing and source good quality clothing at no cost.
The clothes exchange donates very small babies clothes to St. Mary's hospital, and has an outlet to send clothes to Romania and Poland - nothing is wasted
Over lunchtime we prepare FRESHLY- MADE SANDWICHES which cost £1.00 (drink included), and promote healthy eating by giving free fruit, sandwiches and drink to children.
There is a comfortable TIME OUT 4 YOU area where parents and carers can play with their children, socialise and relax.
Other events are organised during the year for families; please look at the notice boards for details of future events coming up.