Worship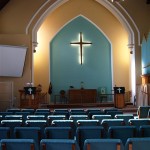 Join us on Sunday mornings at 10.30 a.m. when there are activities for all ages.
Little angels 0-5 years meet at the same time with their parents. There are also groups for young people. Two groups for children 6-18.
Evening Services are as announced on the 'Posts'
Light refreshments are served after the morning service and there is a chance to talk and socialise with other members of the congregation.
There is a Prayer Corner in the Sanctuary, for personal prayer - or speak to one of the Stewards on duty if you would like someone to pray with you.