The Bay Singers
The Bay Singers (Breath of Song)  usually meet on
the 1st and 3rd Wednesdays at 7.00pm
at Sandown Methodist Church, York Road, Sandown.
THE BAY SINGERS
will meet again on the
Wednesdays 20th March and 3rd April 2019 at 7.00pm.



PLEASE NOTE

:  There will be

NO

Meeting of the Bay Singers on the 17th April 2019.
"Normal Service will resume again on the 1st May 2019″
*******************************
BAY SINGERS - A Breath of Song
On the 21st November 2018 "The Bay Singers - A Breath of Song" invited Friends and Family to Sandown Methodist Church for an 'Autumn Potpourri & Festive Fancies' evening, where around 40 guests were entertained with seasonal songs and assorted Festive Foods, duly washed down with Tea and Coffee.  A delightful evening was enjoyed by all.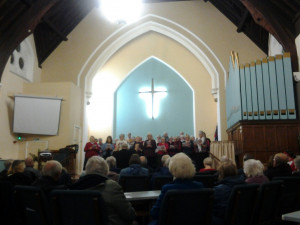 *****************************************
Friends and family were invited to a special evening of "The Dessert Songs"  at Sandown Methodist Church, on the 5th April 2017 - when a varied selection of desserts and songs, followed by tea and coffee,  were presented by the "Bay Singers - A Breath of Song".  A most enjoyable evening.