The Bay Singers
The Bay Singers (Breath of Song)
ARE NOT MEETING AT PRESENT
the 1st and 3rd Wednesdays at 7.00pm
at Sandown Methodist Church, York Road, Sandown
*******************************
*************************
THE BAY SINGERS – (A Breath of Song)
On the 21st November 2018 "The Bay Singers – A Breath of Song" invited Friends and Family to Sandown Methodist Church for an 'Autumn Potpourri & Festive Fancies' evening, where around 40 guests were entertained with seasonal songs and assorted Festive Foods, duly washed down with Tea and Coffee.  A delightful evening was enjoyed by all.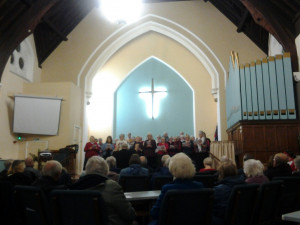 *****************************************
Friends and family were invited to a special evening of "The Dessert Songs"  at Sandown Methodist Church, on the 5th April 2017 – when a varied selection of desserts and songs, followed by tea and coffee,  were presented by the "Bay Singers – A Breath of Song".  A most enjoyable evening.